Glitch is about elements of error: bugs, failures and flaws in a computer program or system that cause it to produce an unexpected result and to behave in unintended ways. Those malfunctions frequently create a variety of weird and extraordinarily graphical effects.
Other versions: A.5c.1 / A.5c.2 / A.5c.3 / B.5c.1 / B.5c.2

All sold? But you want more? New colors, new patterns? Let's keep you in the loop about follow-up releases, drop us a quick note and let us know! You can also sign up to our newsletter, of course!
While glitches are phenomena of computational systems, the Glitch-prints are actually made with out-of-date, analog printing equipment: a letterpress cylinder proofing press from 1964, traditional inks and mould-made, cotton paper. While the design templates are one part scripted randomness and one part time-consuming, manual design work, the final printing plates are built with nothing but LEGO-tiles, built brick by brick. Meticulously arranged by hand each layer of LEGO-tiles has been set and printed successively, super-elevating the seemingly stark contrast between analog and digital. Glitch is a representation of code and behavior and a metaphor for life itself: make mistakes, allow for errors to adapt and learn – or don't, and stagnate.
Some details of these prints are faulty by design and feature minor errors. The slight defects and uniqueness of each and every print are beautiful in itself and a direct result of a printing process that embraces imperfection.
Extremely limited: 15 prints per edition (color/design), signed & numbered.
Letterpress print, 5-colors, hand-printed
Slow-printed with a cylinder proofing press from 1964
Entirely built and printed with original LEGO-tiles
50 x 70 cm (approx. 20 inch by 27,5 inch), fits all standard frames
15 prints per edition (color/design), signed & numbered
5-colors: Gold, Navy, Pale-Blue, Warm-Red, Sand
100% cotton paper from Italy, acid-free, alkaline buffered, archival quality
Unframed, ships in a sturdy poster tube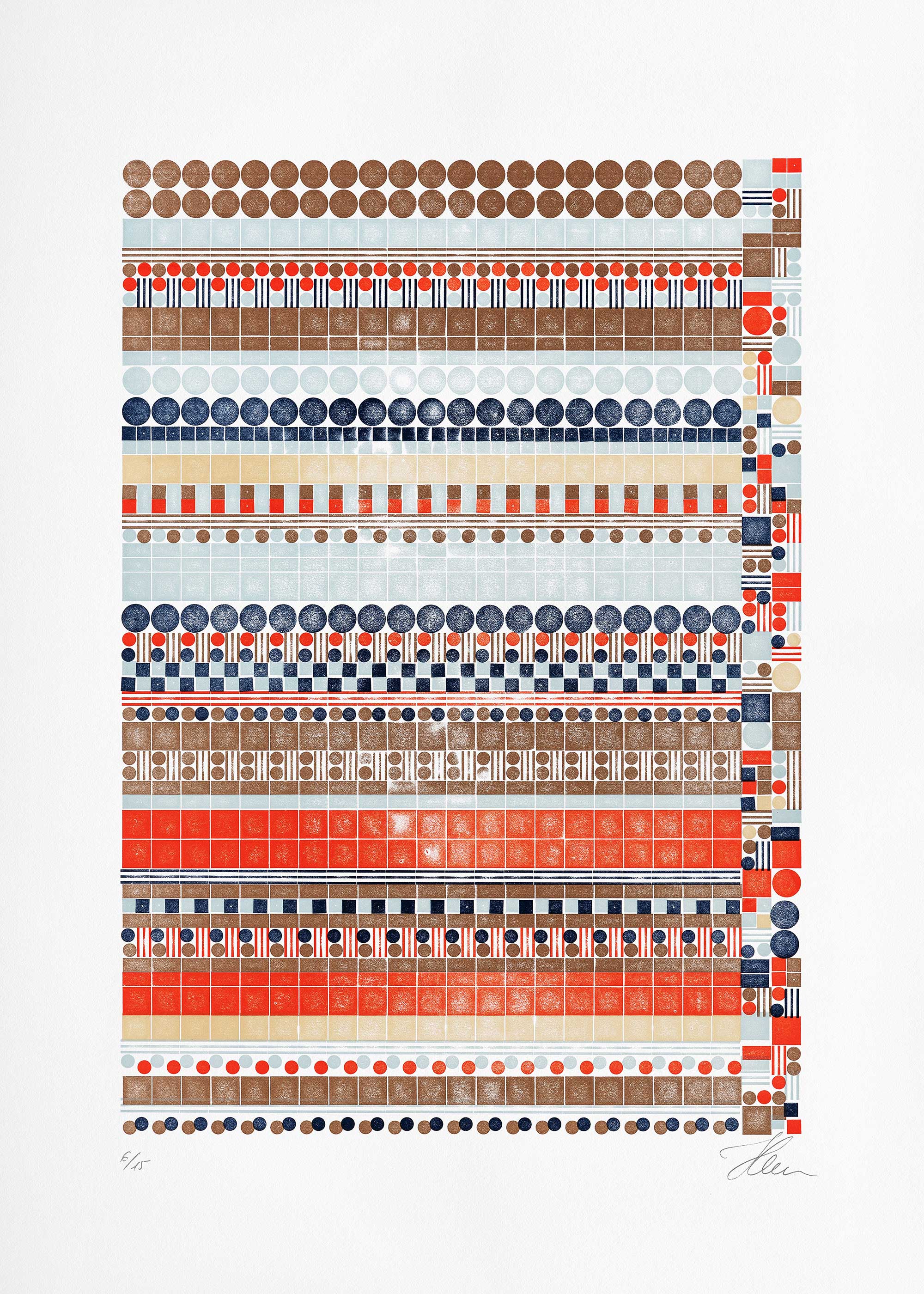 Glitch A.5c.3 (Ed. of 15)